Author Archive: admin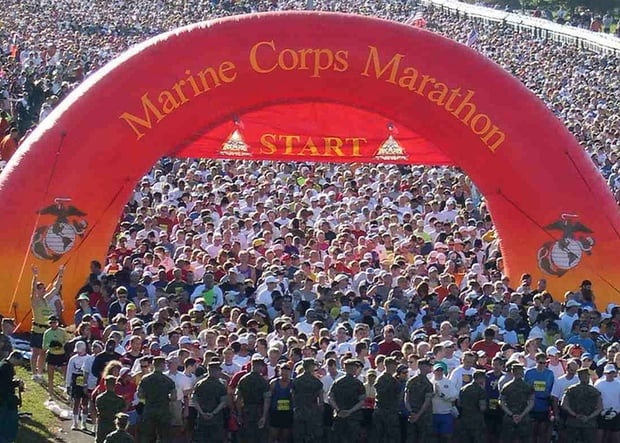 2021 MCM Weekend Officially Canceled Due to Safety Precautions. Rick Nealis, director of Marine Corps Marathon Organization announced the cancellation recently: "After exhausting all possibilities, the opportunity to safely operate and execute a live event is just not feasible at this time."
In many of the past years, the ARPSC has been a supporter of the marine corps marathon. We have provided volunteers and use of our repeater system to help with logistics of the race. Radio amateur volunteers help ensure that runners are safe by helping communications between aide stations and other similar communications-oriented methods.
With our The W4AVA Repeater System's excellent footprint, it has been a great asset to ensure that the marathon has working communication during the event.
This year, the marathon is again happening in person over the weened of October 29th through October 31st. We always encourage people to volunteer for the marathon in a support capacity. If you are interested in helping, please visit the Marine Corps Marathon Ham Site and the Marine Corps Marathon Site.
There will remain some virtual options for the marathon and other races happening that weekend. In addition there will still be precautions in place such as staggering start times to prevent racers from being crowded.
15 Years ago, Arlington County RACES was formed and along with it, W4AVA was registered with the FCC. Through the support of our county and the work of our most active club members, we are now the proud caretakers of our Nation's Capital's most powerful and widest area coverage repeater system!
As you probably know, there is a significant overlap between members of the ARPSC and Arlington County RACES. Our RACES is sponsored by Arlington County's Office of Emergency Management. our goal is to provide support to augment county communications in the case of an emergency.
To join RACES, there are several steps:
Get Training in RACES
Take a RACES test
Submit your application and receive a background check from the Arlington County Police
RACES Training is available on our website. The training provides for you to learn about several important topics including emergency communications, emergency preparedness and communications procedures.
We are not often activated to help out in an emergency. When one is in such a situation, the training that he/she has had really pays off. Thanks to training and our regular net exercises, our emergency nets can be well-run and and organized.
We look forward to your review of the training materials and your application to help support Arlington.
We were just passed along a great article: With Just a WSPR by Dan Romanchik, KB6NU. If you've never read about WSPR, it's a great way to see which bands are open. Read the snippet below regarding this mode and follow the link to read the full article.
---
It's really amazing what you can do with computers in amateur radio, and there's been an explosion in the number of digital modes. One interesting mode that I've recently been introduced to is WSPR, which is short for Weak Signal Propagation Reporting. The protocol and the original WSPR program was written by Joe Taylor, K1JT, and is designed for sending and receiving low-power transmissions on the HF bands to test propagation paths.
The Scout Jamboree On The Air (JOTA) is an on-air event centered around scouting. Cub Scouts, Boy Scouts, Girl Scouts and other members of scouting work with ham radio mentors to make contacts on the air. This is one of the best ways to get the Amateur Radio merit badge.
This world-wide event is in its 57th year and it is intended to introduce scouts to ham radio, and let them talk to other scouts around the world, or around the country. There is a companion event, Jamboree On The Internet.
Lots of information at http://www.scouting.org/jota.aspx
Some of the calling frequencies the JOTA website above lists include:
40M – 7.190
20M – 14.290
15M – 21.360
KI4YBH will be setup with scouts at the LDS Church, 2034 Great Falls St, Falls Church, VA, hoping to get on the air at 0700, until 2200.
All pictures in this post were taken at special event station W4B.

The new repeater in the old cabinet… Significantly more sensitive than the old MFS5000 Motorola.

Left to right: Steve, Dale, Wes, Dwayne. Northern Neck ARC repeater committee members. Pic taken by Dave Jordan, WA3GIN.